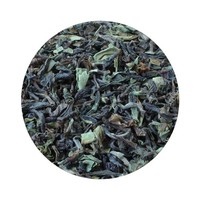 Darjeeling S.F.T.G.F.O.P. 1st Flush - BL2/'18
€8,90
Description
A 'First Flush tea' is defined as the very first plucking of a tea plant's harvest season. The newly grown leaves plucked during First Flush are the youngest and most tender parts of the tea plant and are said to yield the purest and freshest cup of the the plant is capable of producing.

This year Maison THEODOR created an extraordinary blend of First Flush-leaves from two remarkable gardens in the deepest part of the Darjeeling valley, both benefitting from a perfect environment. Even though a First Flush Darjeeling is named to be a black tea, the leaves in this blend have undergone lighter oxidation. This results in a greener character with – next to the traditional notes of muskadel – also subtle hints of fresh green olive A unique First Flush-experience for the true connoisseur.

Ingrediënten:    
Light oxidized black tea from India (Darjeeling).  



 3-4 minutes     

 85°C (185°F)