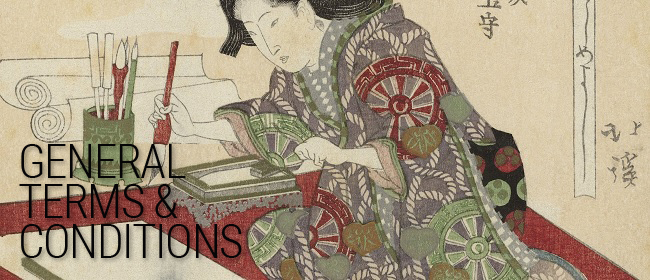 1. Definitions
The following definitions apply in these terms and conditions and are specifically regarding the online environment of Four Leaves:
Consumer: a natural person whose actions are not carried out for objectives relating to the course of a trade, a profession or a business and who agrees to a distance contract with Four Leaves;
Day: weekday;
Digital content: data that are produced and supplied in digital form;
Distance Contract: a contract concluded between Four Leaves and consumer within the framework of a system organized for the distance sale of products, digtal content and/or services, whereby sole or partly use is made of one or more techniques for distance communication up to and including the moment that the contract is concluded;
Technique for Distance Communication: means that can be used for communication regarding the offer made by Trader and concluding a contract, without the necessity of consumer and trader being in the same place at the same time;
Durable Medium: every means that enables consumer or trader to store information that is addressed to him in person in a way that facilitates its future use or consultation during a period that is in keeping with the objective for which the information is intended, and which facilitates the unaltered reproduction of the stored information;
2. Identity
Name trader:
Four Leaves
Registered address:
Four Leaves
Wedderborg 68
1082 TB Amsterdam
The Netherlands
E-mail address:
[email protected]
WhatsApp:
+31 (0)6 811 196 98
Chamber of Commerce (Amsterdam):
54338271
VAT-number:
NL001804869B66
3. Applicability
These general terms and conditions apply to all products that can be ordered out of the webshop of Four Leaves and are part of all of quotations and distance contracts that Four Leaves can be involved in regarding the delivery of products to consumers, like presented on its website.
Prior to the conclusion of a distance contract, the text of these general terms and conditions will be made available to consumer. If this is not reasonably possible, Four Leaves will send these general terms and condition by e-mail – at request of consumer.
Own terms and conditions by consumer on products and quotations as mentioned before, are not applicable.
Accepting an offer or placing an order in the online shop of Four Leaves means you accept the appositeness of these terms and conditions. Placing an order in the online shop of Four Leaves is possible only after consumer explicitly accepts these terms and conditions.
 4. The Offer
If an offer is subject to a limited period of validity or is made subject to conditions, this will be explicitly mentioned in the offer.
The offer contains a complete and accurate description of the products (by form or texts and pictures as digital content). The description is sufficiently detailed to enable consumer to make a proper assessment of the offer. Four Leaves is not bound by obvious errors or mistakes in the offer.
Every offer contains information that makes it clear to consumer what rights and obligations are related to the acceptance of the offer. (E.g. price (incl. taxes), shipment costs, payment method, etc.).
 5. The distance contract
The distance contract will be concluded, subject to that which is stipulated in paragraph 4, at the moment at which consumer accepts the offer and the conditions thereby stipulated have been fulfilled.
If consumer has accepted the offer electronically, Four Leaves will immediately confirm receipt of acceptance of the offer electronically. Consumer can dissolve the distance contract as long as this acceptance has not been confirmed by Trader.
If the contract is concluded electronically, Four Leaves will take suitable technical and organizational measures to secure the electronic transfer of data and he will ensure a safe web environment, conform the applicable legal standards.
When consumer makes an electronic payment, Four Leaves will offer appropriate technical and organizational measures to secure safe payment.
Four Leaves may obtain information – within statutory frameworks – about consumer's ability to fulfil his payment obligations, as well as about facts and factors that are important for the responsible conclusion of the distance contract. If that research gives Four Leaves proper grounds for declining to conclude the contract, then he has a right, supported by reasons, to reject an order or application or to bind its implementation to special conditions.
 6. Right of withdrawal
When purchasing products, consumer has the right to dissolve a contract, without giving reasons, during a period of at least 14 days. Four Leaves is allowed to ask consumer for the reason of this dissolution, but consumer is under no obligation to state his/her reason(s).
The period stipulated in paragraph 1 commences:

on the day after the product was received by consumer, or a third party designated by consumer, who is not the transporting party; or:
if consumer has ordered several products: the day on which consumer, or a third party designated by consumer, received the last product.

Four Leaves may refuse a single order for several products with different delivery dates, provided he clearly informed consumer of this prior to the ordering process.
Perishables (like: foods), products that are by reason of health protection or hygiene not suitable to be returned and sealed products of which the seal after delivery has been broken, are excluded from this right of withdrawal.
7. Obligations of consumer during withdrawal period
During the time of reflection consumer will handle the product and package with great care. He will only unpack or use the product in the least way necessary to determine the nature, features and/or operation of the product. The premise of this is that consumer is only allowed to use and inspect the product as he would be allowed in a physical shop.
Consumer will only be liable for diminished value of the product which is the result of use or inspection of the product beyond the permission granted in paragraph 1.
If visible wear or damage has occurred Four Leaves is entitled to offset this damage to the reimbursed amount.
8. Excercise right of withdrawal by consumer
Consumer who wants to exercise his right of withdrawal shall report this to Four Leaves, within the withdrawal period, by means of an e-mail message to Four Leaves.
As quickly as possible – but no later than 14 days after the day of reporting as referred to in paragraph 1 – consumer shall return the product to Four Leaves.
Consumer returns the product including all relevant accessories, if reasonably possible in the original state and packaging, and in accordance with the reasonable and clear instructions provided by Four Leaves.
The risk and the burden of proof for exercising the right of withdrawal correctly and in time rest upon consumer.
Consumer bears the direct costs of returning the product including all relevant accessories.
If consumer exercises his right of withdrawal all additional contracts will be dissolved automatically.
 9. Obligations of Four Leaves when right of withdrawal is exercised
As soon as Four Leaves receives an electronic message from consumer regarding his right of withdrawal, Four Leaves will immediately confirm this by return message.
Four Leaves will reimburse the payment(s) done by consumer regarding the concerning product (including any paid shipping costs) as soon as possible, but at last within 14 days after the product subject to the right of withdrawal are returned to Four Leaves.
Four Leaves will make sure the reimbursement is made to a bank account number provided by consumer.
 10. Prices
All prices for the products offered on the website fourleaves.nl are mentioned in euros, including VAT and excluding handling costs, shipping costs or any other taxes or levies.
Prices are mentioned subject to typing errors.
Rates for handling and/or shipment are mentioned before the distance contract will be concluded.
Alle prijzen voor de aangeboden producten worden vermeld in euro's, inclusief BTW en exclusief handling- en verzendkosten, eventuele andere belastingen of heffingen.
Four Leaves reserves the right to change the prices on his website.
11. Compliancy
Four Leaves guarantees that the products on its website will contain the specifications stated in the offer, the reasonable requirements of reliability and/or serviceability and on the date of that the distance contract was concluded.
12. Supply
Four Leaves will take the greatest possible care when receiving and implementing orders for products through its online environment.
Four Leaves will do its utmost to deliver the order within three to five days. The order will be delivered within thirty days at the latest.
If delivery is not possible (the product is out of stock or some other reason), or part of the order cannot be delivered, Four Leaves will inform consumer as soon as possible after receiving the order.
Following dissolution in accordance with paragraph 3, consumer has the right to cancel the total order. Four Leaves will refund consumer immediately the sum he had paid.
The risk of damage and/or loss of products rests upon Four Leaves up to the moment of delivery to consumer or a representative previous designated by consumer and announced to Four Leaves, unless this has explicitly been agreed otherwise.
13. Payment
Consumer will make a payment at the end of the order process (check-out) using one of the payment methods offered by Four Leaves.
Payment by using iDeal, any credit card and PayPal will be done immediately; choosing payment by means of Klarna will offer consumer a term of payment of 14 days.
For an order outside of the online environment fourleaves.nl consumer will receive an invoice by Four Leaves. The invoice will state a term of payment of 14 days.
Following a situation as mentioned in paragraph 3 the order will be send out to customer after payment is received on either bank account number or PayPal-account of Four Leaves.
If consumer fails to fulfil his payment obligation(s) in good time, Four Leaves has – in consultation with customer – the right to suspend and/or dissolve the (execution of) the contract and all associated contracts.
14. Complaints
Complaints are all grievances of consumer concerning the statis of an order or its delivery.
Delivered products must be inspected immediately upon receipt by consumer. Found defects, lack of product(s) in the order or any other complaints regarding the order need to be reported within three days by e-mail message.
Reported complaints are confirmed by e-mail message by Four Leaves.
A complaint will only be valid regarding the delivered product(s) in the order, that are still in the same state as when they were delivered.
Small derivations or technically unavoidable deviations, deemed acceptable in the trade, are no grounds for complaints.
When a complaint is justified Four Leaves has the right to replace the delivered product(s) in accordance with the order.
Returns that are not preceded by or accompanied by a complaint message (referring to paragraph 2), will not be accepted.
 15. Force Majeure
Force majeure means: any shortcoming that cannot be attributed to Four Leaves, because it's not due to his fault and/or neither is arranged under any law, legal act or general opinion.
In the event of force majeure Four Leaves has the right to suspend all its obligations regarding compensation of any damages occurring at consumer, except and insofar Four Leaves had an advantage due to the force majeure that would not have had occurred during correct compliance.
When consumer has already made a payment Four Leaves will reimburse the amount within 14 days after notification.
16. Intellectual property
Texts and photos on the online environment of Four Leaves (or suppliers or other rightful claimants) are subject to intellectual property. Four Leaves (both in word and image) and THEODOR (both in word and image) are registered trademarks. Abuse of these trademarks will be treated in accordance to the applicable laws.
17. Privacy
Four Leaves processes all personal details of consumer in accordance with its privacy policy.
All personal details of consumer are stored in his/her account in a secure environment.
Four Leaves will never share and/or sell personal details of consumer to third parties.
18. Governing law
These general term and conditions are governed by Dutch law. Any and all disputes arising will be submitted to the competent court of Amsterdam, The Netherlands. 
19. Digital newsletter
Consumer has the possibility to apply for the digital newsletter of Four Leaves.
When consumer doesn't like to receive the digital newsletter anymore, it is easy for consumer to opt-out (see: bottom lines of the newsletter).