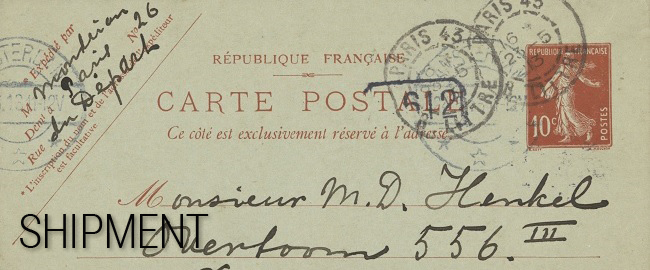 Shipment within The Netherlands
Your order will be shipped in a regular postal parcel or – if your order is not overly sizable – a mailbox package. A mailbox package is cheaper than a regular postal parcel. We try to keep the shipping costs for your order as low as possible. That's why we have chosen SendCloud as our shipment provider.





As soon as your order has been shipped out you will receive an automatically generated e-mail message containing a Track&Trace-code. This way you can check the status of your shipment at your convenience. Smaller orders (depending on the variety of teas or chosen quantity (!) will be shipped in a mailbox package. Our online shop will automatically select the correct shipment method for your order.

Our current shipping rates within The Netherlands:

€ 3,95 for a mailbox package;
€ 6,25 for a regular postal package;
Orders from € 75,- will be shipped free of charge within The Netherlands.

Pick-up locations (Amsterdam)
Four Leaves offers four pick-up locations in Amsterdam. When you select a pick-up location your order will be available for you to pick-up the following Friday from the opening hours of the location of your choice. (Make sure you place your order on the Thursday before at 16pm. at the latest). You can find your confirmation (including location, date and opening hours) on the invoice that will be send to you by e-mail. No shipping costs are charged if you choose one of our pick-up locations.

Delivery
Generally postal packages within The Netherlands are delivered within one to two weekdays. If an item is out of stock, we will contact you.