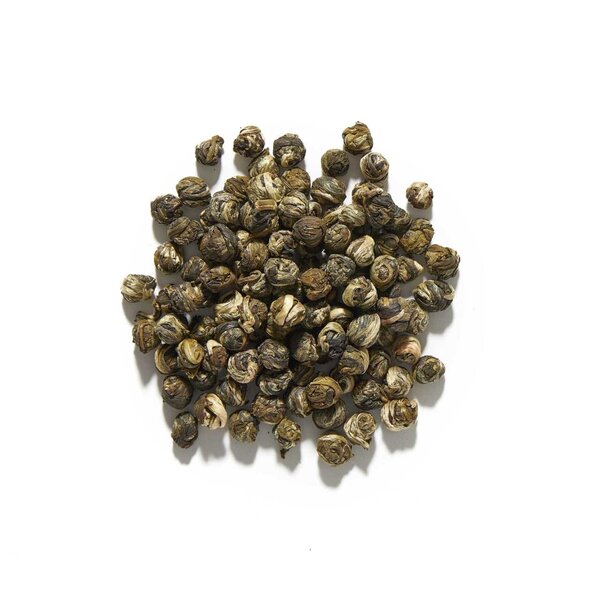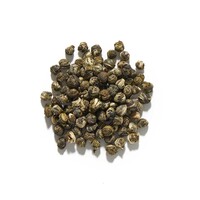 Impérial Jasmine Dragon Pearls
€7,00
Description
Fresh, delicate and a feeling of intense luxury; a classic among green Chinese teas. The green tea leaves were hand-rolled into a pearl shape and traditionally infused with the perfumes of jasmine flowers. Striking is the refined and sweet jasmine taste, in a perfect balance with the green spring leaves in which this tea is based.

Hand-processing from the harvest to the final product ensures the smooth taste and round mouthfeel of this specialty tea, which is perfect as an after-meal digestif or as a refreshing afternoon drink.

The special property of jasmine pearl is the rolling of the tea leaves into small balls. This is still done by hand in the most traditional companies. During this process, the leaves are gently rolled into small pearls, which helps to better preserve the taste and aroma of the tea. The tea does not yet have the typical jasmine taste. To flavor the tea, jasmine flowers are added to the dried pearls overnight, as the flowers intensify their fragrance at night. During this time, the pearls absorb the scent of the jasmine flowers. This process is repeated several nights to achieve the desired jasmine flavor.

This jasmine pearl is characterized by refinement and delicate notes. Are you interested in a slightly stronger, sweeter jasmine tea? We would like to refer you to 'Green Jasmine,' which has a base of pure green Chinese tea (from an orthodox production), to which essential oils from jasmine flowers as well as whole jasmine flowers have been added.

Ingredients:
Green tea from Fujian (China), hand-rolled leaves, infused with the perfumes of jasmine flowers.



2-3 minutes     

80°C (176°F)